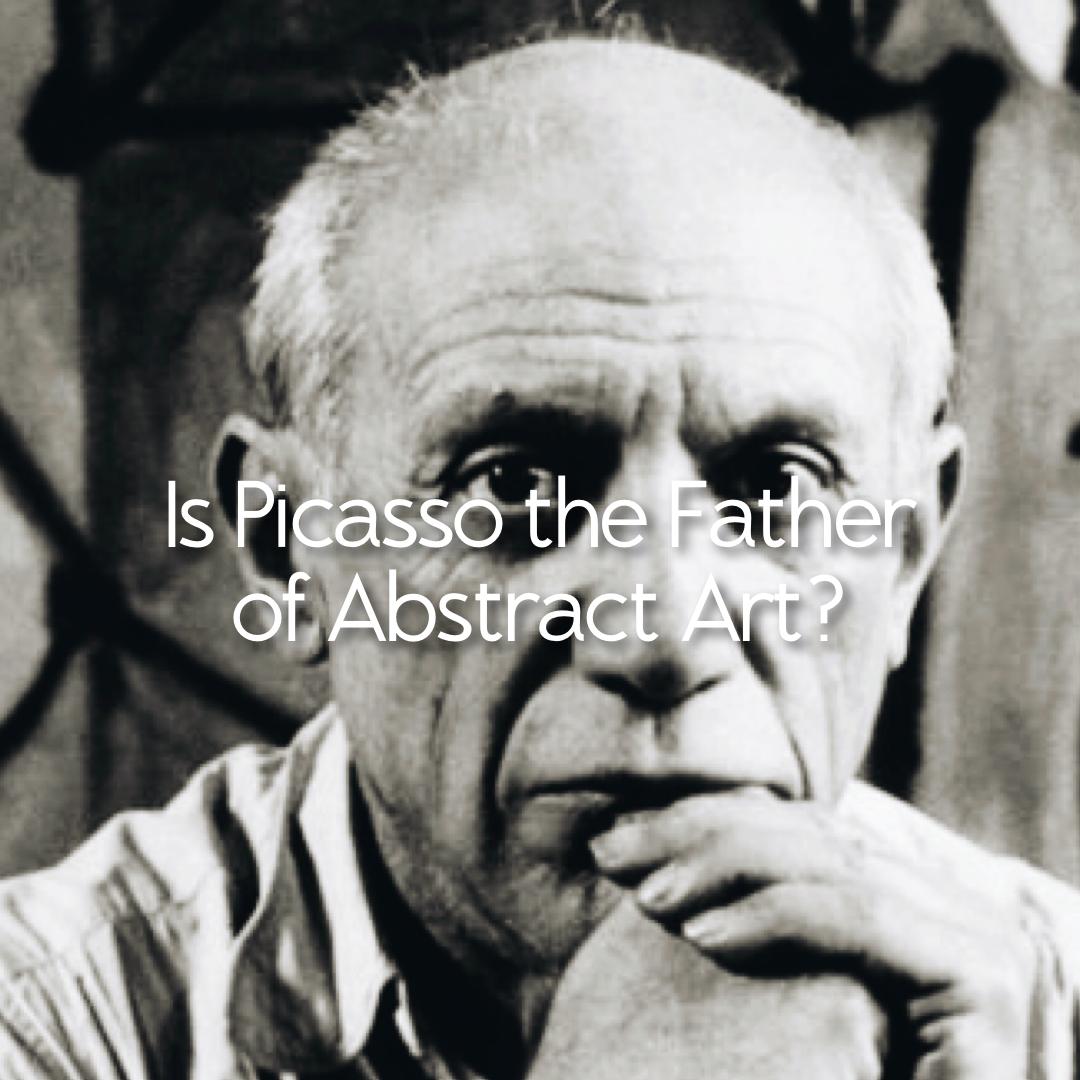 Is Picasso the Father of Abstract Art?
0 comments
What is abstract art?
Every time we hear people mentioning abstract art, Picasso would be the first person to come to our minds.
Is Picasso the founder of Abstract Art?
Fig. 1 Photo of Pablo Picasso (Courtesy of Sotheby's)
Pablo Picasso, one of the most celebrated artists of the 20th century, together with his counterpart, Georges Braque are the inventors of cubism, a period where he struck the art critics with his cuboid portrait and figures that attempt to deconstruct the way we look at Art. Many believe he was the inventor of Abstract Art. The accolade, however, was not his.
Fig. 2  
Bowl of Fruit, Violin and Bottle, 
Pablo Picasso 1914
Abstract art, in its proper context and definition is a piece of work that does not represent an accurate visual image. It does not have or attempt to create an object.  
The origins of abstract art can be traced back to the early 20th century in Europe as artists were looking for new ways to express their ideas and emotions. In 1910, Russian artist, Wassily Kandinsky produced a watercolour painting, considered to be the first purely abstract painting in history.
Fig. 3 Untitled, 1910 Watercolour by Kandinsky
Kandinsky used colours and shapes to create a visual language that could communicate these ideas and his works are believed to have been inspired by music. "Color is the keyboard, the eyes are the harmonies, the soul is the piano with many strings. The artist is the hand that plays, touching one key or another, to cause vibrations in the soul." Kandinsky was known as the artist who could see sound. It is believed that his paintings require one to appreciate alongside classical music such as Beethoven and Mozart's composed music.
Fig. 4 The Black Square, 

Oil on Linen
Kazimir Malevich 

1915 

Other artists in Europe were also experimenting with abstract forms. In 1913, Russian artist Kazimir Malevich created a series of paintings called "Black Square" and "White on White", which featured simple geometric shapes on a monochromatic background. These paintings represented a radical departure from traditional art, which focused on realistic representations of the world.
Composition IV, Oil on Canvas
Piet Mondrian, 1914
The development of abstract art continued throughout the 1910s and 1920s. In Netherlands, Theo Van Doesburg and Piet Mondrian started a De Stijl movement in 1917 that emphasizes on geometric forms, colours and clean lines to create abstract designs which later influenced the Bauhaus movement and these forms of art are also being translated into painting, sculpture and architecture. 
Fig. 6 Jackson Pollock in action
In the United States, the Abstract Expressionist movement (also known as action painting) emerged in the 1940s and 1950s where artists such as Jackson Pollock and Mark Rothko used abstract forms to express their emotions and feelings in a raw and direct way. Jackson Pollock worked with paint drips and splatters to create dynamic and energetic compositions.
Nonetheless, we cannot deny Picasso's credit and contribution to the Abstract Art period, had there not been the founding of cubism, the period that struck the world with his deconstructive cuboid portrait and figures that does not hold a strong resemblance to how painting used to be.
Keen to learn more about Abstract Art?
In LACA's abstract art program, participants will be exposed to various mediums. They will be guided by a professional instructor with more than a decade of abstract art and educational teaching experience.
To register for this program, we recommend participants who have an interest and curiosity in Abstract Art. It is also recommended that participants have completed our Oil painting beginner program or have a solid foundation in painting to begin with. 
Bibliography
https://www.barnebys.co.uk/blog/picasso-the-universal-artist. (n.d.).
Connor, F. V. (2023, March 31). Retrieved from Britannica: https://www.britannica.com/biography/Jackson-Pollock
0 comments